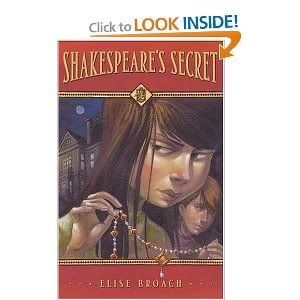 Image courtesy of Amazon.com
Now that I am in the third grade, I have to do a book report every month. Each month has a theme. October's theme was mystery. We had choices of a project to do. You could choose a puzzle where you made six puzzle pieces. Piece one was the author and title. Piece two was main and minor characters. Piece three was the setting. Piece four was the problem. Piece five was the main events. Piece six was a clue leading to the solution. You could also choose a diorama. You did a one-paragraph summary of the book and made a scene out of clay or foil or Legos or Playmobils in a shoebox. You could choose a mobile too. The mobile was basically the puzzle but with a hanger and notecards.
I did the puzzle. My book was
Shakespeare's Secret
by Elise Broach. I liked doing the puzzle because a mystery is a synonym to a puzzle. To make my project, my mom and I cut out puzzle pieces from a foam board and glued them on a poster board and wrote sentences about the book. You also had to give a presentation about your project to the class.
Tips for Your Presentation
Make eye contact.
Be one of the first ones to go so your audience doesn't lose interest.
Don't stare at your paper or poster.
Before you begin, check to see if your class is being rude so they are not doing bad things while you present.
Practice, practice, practice!
Speak loud and clear.
If you mess up, keep going and pretend you didn't mess up anything.
Don't wait till the last minute to do your project. Do a little every weekend. That's what I did. It's not so bad if your work every weekend.